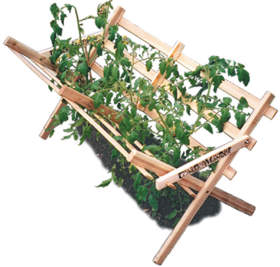 NEW Tomato Manger trellis!
The perfect yard or garden plant support!
Completely assembled for easy yard & garden setup
Mildew, rot resistant cedar wood construction
Ribbed rails for tomato plant support & protection
Support design protects plants from wind damage
Allows for quick covering against frost damage
Quickly collapses to provide for convenient storage
May be treated or painted to desired color scheme
Will provide years of reliable yard, garden service
Save on shipping when you buy 2! $50 each
Click here to see the Tomato Manger in the garden!
48" Long x 24" Wide x 24" Tall
Custom fabrication orders are accepted!
Phone: (406) 587-0310
Mystic Trellis by Mountain Man
720 Front Street • Bozeman, Montana 59715
Phone: (406) 587-0310 • Fax: (406) 585-5513